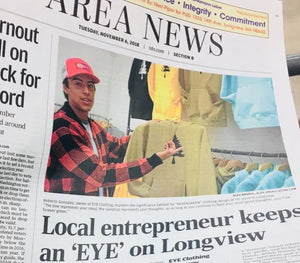 Local clothing entrepreneur has his EYE on Longview
Now, Gonzalez, a 24-year-old Longview native, has opened a second branch of EYE Clothing Company, this time in Longview. Inside the minimalist storefront at 1141 Commerce Avenue, clean rows of clothing adorns racks built from industrial piping (inspired by Longview's own history as a mill town).
The store features shirts, hoodies, rain jackets, hats and other clothing designed to evoke the Pacific Northwest, from mountains to salmon and a three-eyed Bigfoot. Gonzalez designed most of it, and there isn't a massive catalog or rows of packed-in shirts; Gonzalez said he prefers a cleaner, quality-focused approach.
EYE, or "Earn Your Excellence," got its name from Gonzalez' belief in finding a vision for success and chasing it relentlessly.
"The way I was raised, my parents never gave me anything unless I earned it," he said. "Go pull weeds, go wash the dishes, go mow the lawn, and then you can have it."
Gonzalez opened a Vancouver location last year, but two months ago he and his team set their sights back home in Longview to expand. EYE Clothing Company officially opened Saturday, but its grand opening ceremony takes place Nov. 24 with food and a live DJ set.
Gonzalez sees his business as a force for good in the world. Selling clothes is a way to get people thinking about their consumer choices and their own culture, he said. So the clothes are designed with uplifting, ecological-minded and locally inspired messages, and EYE has partnerships with two charities. Online shoppers can buy donations to One Tree Planted, a Vermont-based reforestation non-profit, and Kyäni's Caring Hands, which invests in nutrition, sanitation and education for impoverished communities around the world.
He envisions dozens of EYE stores around the country, each featuring clothes from local designers that tell stories about the culture there. EYE carries pieces by designers across the western United States and occasionally collaborates on pieces with other designers.
The store has also partnered with "Find My Brand," a locally based apparel website that aggregates obscure and indie clothing companies. Gonzalez said he likes the idea of collaborating with other small-scale outfitters.
His prices are modest by designer standards: Hoodies generally run $45, T-shirts cost $25, most hats are $25, and the most expensive items in the store — Mediums Collective hoodies — punch in at only $99.
"It's exciting, it's scary," he said. "I feel very blessed to be a part of this journey."
He'd always wanted to be an entrepreneur, but things really got started when he was 18, Gonzalez said, when he was inspired by a few older acquaintances who opened their own outfit, Ham Clothing, in Longview in 2011.
"That kinda showed me that anyone can start anything at anytime," Gonzalez said. "These guys were just regular dudes, and here they go starting something. … I wanted to make a difference. That was my passion, my fire."
Ham eventually closed, but the fire was lit for Gonzalez, who went from playing with the Microsoft Paint program during his senior year at R.A. Long high school to creating his first shirt designs in 2013 and learning how to use Photoshop.
By fall 2016, he'd started selling clothes at festivals, online and through Bulldog Sk8 (now closed) in Longview, and his line opened up to clothes of other designers he connected with over social media.
One such design is the "Moving Mountains" T-shirt, depicting a salmon wrapped in mountain peaks. It was designed by an Idaho illustrator. Another, reading "Through Adventure We Grow," comes from a California-based illustrator.
In 2017, Gonzalez teamed up with his business partner Andre Gilbert, and EYE opened its first permanent location at the Vancouver mall in November. Putting together a team wasn't easy.
"The hardest thing you can do is duplicate yourself," Gonzalez said. "(Find) the right people that see the same vision and are going to help you get to that vision. But the challenges are what make it fun."
Gonzalez started printing his clothes at Screen Print Northwest, and his new storefront rents the Commerce-facing side of that Longview printing business. (Screen Print Northwest still operates out of the back of the building.) He plans to split his time between the two stores while Gilbert runs the Vancouver location.
---