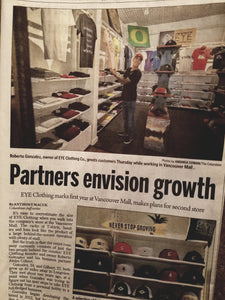 EYE Clothing marks first year at Vancouver Mall, makes plans for second store
Original story & Images: columbian.com/news/2018/oct/23/eye-clothing-store-vancouver-mall
By Anthony Macuk, Columbian business reporter
But the truth is that the entire company currently consists of just the two people behind the counter: EYE Clothing founder and owner Roberto Gonzalez and his business partner Andre Gilbert.
Gonzalez, 24, and Gilbert, 22, both grew up 40 miles away, in Longview. They met about two years ago, at a point when Gonzalez was trying to figure out his next steps to take EYE Clothing from a personal hobby to a full-fledged business.
Gonzalez began developing the brand in 2012, but he says his vision for the company dates back to his childhood. Even before he had a specific direction in mind, Gonzalez says he knew he wanted to be his own boss and to do something that would directly impact people. He also had a nascent interest in artwork and design, which he was able to further develop in his spare time at his high school computer lab.
"I used to get on the art program and just start designing stuff," he says. "The more I started to do, the more I started to learn."
The clothing was one of the last pieces of the puzzle. Gonzalez says that during his senior year of high school, he began to see clothing as a pathway to unite his desire for entrepreneurship with his growing passion for design.
After high school, he bought his own design software and continued working on clothing designs, including the "dEYEmond" that now serves as the company logo. He also developed the brand name as an acronym for the phrase "Earn Your Excellence."
He embarked in the clothing business with an order of just 24 T-shirts printed at a Longview screen printing company called Screen Print Northwest, and sold them locally to anyone who expressed interest.
It took six months to sell through the first order, Gonzalez says, but he kept at it, putting the money from each batch into subsequent orders. He began to add new designs to the mix, and expanded the lineup to include hats and hoodies. In 2014, he created a website and began selling online as well.
"When you get this message in front of the right people," he says, "they'll buy it."
Partnership takes off
In 2016, Gonzalez began attending festivals and shows to sell EYE Clothing shirts, and he formed a partnership with Gilbert after the two met at an event. In the fall of 2017, they decided to try to set up a kiosk at a more permanent location. They initially considered the Kelso Mall before settling on the Vancouver Mall due to its high traffic.
But when they contacted the mall management to investigate the kiosk idea, they learned that leasing a storefront would actually be cheaper. Operating an entire store represented a huge jump forward in the scale of the company, but Gonzalez and Gilbert resolved to give it a try for three months to see how things went.
"There was a lot of excitement, a lot of being scared and a lot of accomplishment," Gonzalez says. "Growing up, this was what I wanted, but now my vision is bigger."
The store opened in November 2017 and quickly exceeded expectations, selling out its stock during the first holiday season and sending Gonzalez and Gilbert scrambling to put more merchandise on the shelves. They both quit their previous jobs in order to focus on the finances and logistics of running what had suddenly become a full-time commitment.
Gonzalez handles more of the artwork and design portion of the job, while Gilbert tends to take the lead on the business side of things, but with only two employees in the company. Gilbert says the reality is they've both been busy just keeping up with the basic tasks of running the store.
"You get to wear every hat, pretty much," he says.
Business continued to be strong in 2018, and Gonzalez and Gilbert are now working on plans to open a second store in Longview. If the momentum continues, the duo say they plan to keep expanding rapidly, opening new stores in Seattle and possibly Portland, and eventually pushing outside of the Pacific Northwest entirely.
They've also begun partnering with One Tree Planted, adding plug-ins to the EYE Clothing website that allow customers to make $1 donations to the organization, which works on reforestation efforts.
Gonzalez and Gilbert admit that at some point they'll need to grapple with expansion challenges, particularly if merchandise demands begin to exceed the capacity of the Longview printer. But they're still small-scale enough that any such point is a ways down the road.
Some of the scaling up has already begun. Gonzalez still handles primary design duties, but he's begun collaborating with other artists from the region to help bring some of his designs to life, and he says that's a method he wants to maintain as the business expands into new geographic areas.
The designs have grown more varied, but Gonzalez says the consistent factor is the need for each design to have a meaning and message behind it — whether in the form of symbolism, a story or a reference to the Pacific Northwest — generally tying back to themes of personal growth and enrichment.
"I'm not here to sell you clothes," Gonzalez says. "I'm just trying to share my message."
Some of the company's most prominent offerings include the deyemond, a "4EVERGREEN" tree design and a line of "All Good In The Hood" items that feature an illustration of Mt. Hood. Most of the t-shirts sell for either $20 or $25, while the hoodies generally start at $45 or $55 for a windbreaker option. Many of the items are offered in child sizes.
The local clothing business space isn't exactly empty — Portland is home to a number of niche clothing brands such as Portland Gear and Baseballism — but Gonzalez says he expects to be able to stand out from the pack on the basis of EYE Clothing's unique artwork and core message.
"I don't see anything as (our) competition," he says. "We'll grow ourselves to be the best version of ourselves."
---